37. Teach Thought
Teach Thought offers posts that focus on innovation in K-12 education. Teachers interested in growing and improving their skills can find useful pieces of advice in this blog. The blog was founded in 2012 by Terry Heick, an author and a former teacher interested in reshaping K-12 teaching.
The Headline
Most people on the Internet are borderline hypnotic. The constant inflow of content just renders them damn near comatose. Your blog post is just one of likely hundreds hitting them at any given time. Your's must stand out and smack 'em in the eyeballs in order to get noticed.
That's a bit of a buzzkill, huh? But, we have to work with human nature, not against it. Plus, it isn't as if you have to have a 6-word headline. In fact, the headlines most often shared on Twitter have 8 to 12 words (according to Hubspot). So, what we want to do is craft a headline that does the job, but emphasizes those first few words and last few words.
The mistake I find most people do with their headlines is just state the topic and leave it. Or they'll give it some cutesy title that gives zero clue what the post is about. I remember one time looking at a photography blog where the lady had written a blog post about lighting. The title: "Video Lighting". This is headline fail.
The Feature Image
The feature image is that graphic image which usually shows up right at the top of the post. Most importantly, it is what will show up when the post is shared on social media. This why the image is important.
Many bloggers don't use feature images at all. That could be fine if you're just doing an informal journal-style blog for fun. However, if you like traffic, you should do a feature image. It takes a bit of extra time, but it is worth it.
Featured Image Dimensions
Technically, you can have a feature image of any size you want when it comes to presenting it on your blog. However, the real importance of the image is due to social networks. And each social network has their own ideal dimensions.
Now, you might be thinking this is just impossible. The good news, though, is that all these networks will auto-resize the image as needed in order to fit their network. You just want to make sure the aspect ratio (the ratio between the horizontal and vertical) is such that it can resize properly.
Almost all of the networks will take your horizontal image and resize as needed. The portrait layout is primarily for Pinterest. There's probably no need to bother making a portrait image for your post unless it is the kind of material likely to do well on Pinterest.
Featured Image Content
How to Write a Perfect Blog Post
Every great blog post starts with a headline that grabs the reader's attention, and compels them to click and keep reading to learn more. Internet readers have very short attention spans — around eight seconds in length — and the headline is one of the critical first elements that help readers decide if they want to click and stay on your site. In fact, 60% of readers don't read past the headline, which presents a big opportunity. Here's how to write a great headline:
Brainstorm a Working Title
Start with a working title in mind and brainstorm how to make the angle as interesting as possible. This is the phase of blogging where you start with a general topic and narrow down exactly what you want to write about that topic.
For example, if I want to write about the topic of "blogging," I need to come up with a more specific working title first. And those working titles depend on the format of my blog post. Whether you're writing a listicle, an explainer article, or a how-to guide, brainstorm a few titles to guide your research. Here are a few ideas:
Conduct Keyword Research
Keyword research will help you create a headline that will perform well on search engine results pages (SERPs). Your headline is one of many factors Google considers when ranking results on SERPs, and an optimized title will help people find the information they need more easily.
"Blogging" is a broad search term, and when I dropped it into SEMrush, more than 75,000 keyword results were returned. We recommend targeting long-tail keywords that are more specific to the exact audience you're targeting — which you can learn more about by creating buyer personas.
Once you've nailed the keyword you're targeting, you can create your final title, as well as your headers (more on that later). For the purposes of this example, I chose, " The Definitive Guide to Business Blogging."
Craft a Title
4) Introduction
The introduction needs to quickly hook your reader and convince her to read the rest of your blog post. It also has to let the reader know what your post is about, so she knows what she's getting. Nobody likes clickbait, so you want to make sure your post is about what the headline says it is.
Whether your approach is humor, interesting and surprising facts, or asking a question, find a way to make the first lines of your blog posts as attention-grabbing as possible. Write an introduction that would make you want to keep reading an article — a quick few paragraphs to draw the reader in and let him know what he's about to read.
Frost uses a cliffhanger approach here — and now I want to read more to learn about how hard it is to be an entrepreneur. For more introduction inspiration outside of HubSpot Blogs, I recommend reading posts on Medium and Buffer.
Best marketing and social media blog examples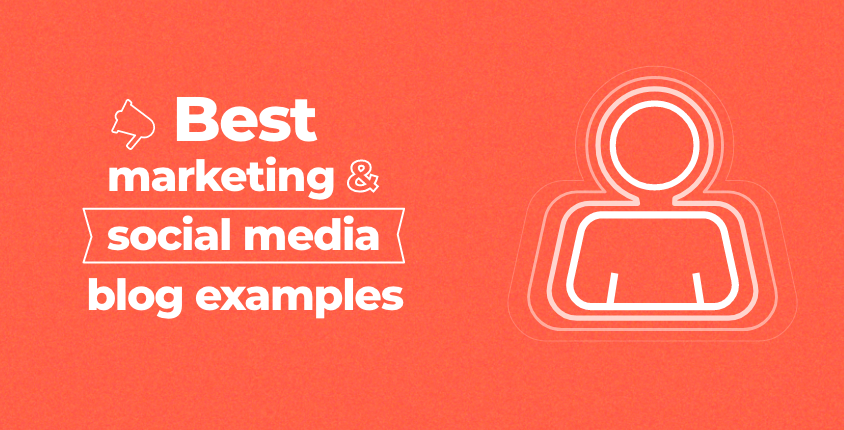 49. Jon Loomer
Loomer launched JonLoomer.com 11 days before he was laid off in 2011. At that time, he didn't realize that he was building what would be one of the most successful social media marketing blogs in the world. His site focuses on training advanced Facebook marketers and showing various tips and tricks for running successful SMM campaigns.
50. Awario
Awario was created in 2015 with the goal of helping businesses and individuals improve their presence on social media. Awario is actually a tool that helps thousands of customers reach their SMM and analytics-related goals. The blog section offers a wide array of topics, including market research, marketing, competitor analysis, and SMM.
51. Mari Smith
Mari Smith is an experienced marketer with a professional team around her. This team helps businesses grow using digital marketing techniques. The site also features a blog where Mari writes about Facebook and Instagram as marketing tools.
52. Ask Aaron Lee
Aaron Lee is a social media expert whose work has been featured on sites such as Inc, Forbes, Success.com, and The Huffington Post. This young entrepreneur from Malaysia wanted to share his knowledge via his blog for free. The blog currently has more than 60,000 subscribers.
Authorship:
https://www.blogmarketingacademy.com/perfect-blog-post/
https://blog.hubspot.com/marketing/anatomy-perfect-blog-post
https://firstsiteguide.com/examples-of-blogs/